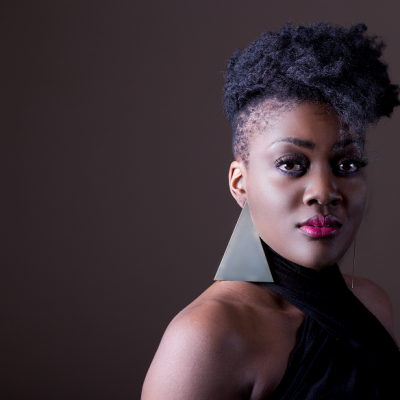 MS.ABA (NL)
Biography
MS.ABA (also known as Augustina Austin), is a multi-faceted artist: a presenter, broadcaster, public speaker, performer and creative entrepreneur.
MS.ABA discovered she had a natural skill to present and perform after winning Face of Ghana Holland 2009, a beauty pageant focused on benchmarking beauty with a mission to contribute to the Ghanaian community in the Netherlands. As a Beauty Queen, MS.ABA moderated events related to the Dutch-Ghanaian community. This kick started her career as an international presenter.
As a presenter, MS.ABA has interviewed and interacted with noted Africans like Rehmah Kasule, Bozoma Saint-John (Netflix), H.E. Ameenah Gurib-Fakim, Lucy Quist, H.E. John Kumah, H.E. Gifty Ohene-Konadu and more. In entertainment, she has shared the stage and interacted with Sauti Sol, Wiyaala, Dobet Gnahoré, Skiibi and more noted artists. As a speaker, her journey and experiences are highly acclaimed for events that focus on Africa, entertainment, women empowerment and business development. MS.ABA has been a speaker for Africa Talks, Village Diaries Amsterdam, Purpose Woman Seminar and more.
MS.ABA is a freelance presenter, voice-over artist and broadcaster. You can listen to her every Sunday from 7pm (CET) on Hiradio on her weekly show: Africa on Focus, a radio show aimed to promote entrepreneurship and success stories to African Millennials. Africa on Focus the Podcast, the recap of the radio show is available on Soundcloud, Spotify and iTunes. The show has featured Dentaa Amoateng MBE (UK), Esther Dankwah (Africa Olympics, NL), Busi Sizani (Uber, NL), Leroy Niemel (NL), Eddie Kadi (UK), Palgrave Boakye-Danquah (Kandifo Institute, GH) and more.
When she is not presenting, MS.ABA is performing between the Netherlands and Ghana. In October 2020, she released her debut EP Rooted. Available on Spotify, Apple Music and YouTube Music. In 2022, she is yet to release her follow-up EP.
In 2018, MS.ABA was awarded by the Tema Citizens Club of the Netherlands for outstanding vision, dedication and distinguished service to the Ghanaian community of the Netherlands. In March 2019, the presenter was nominated as Best Radio Presenter of the Year and awarded Best Female MC of the Year by Afro-Diaspora Influential Awards.
Other
MS.ABA is a communication strategist, business owner and the founder of BYAustin, a communication firm focused to help international companies and brands strategize and implement an effective branding strategy.
Find out more about MS.ABA via her website.
Do you want to know where MS.ABA's next event is? Find out more on her website.