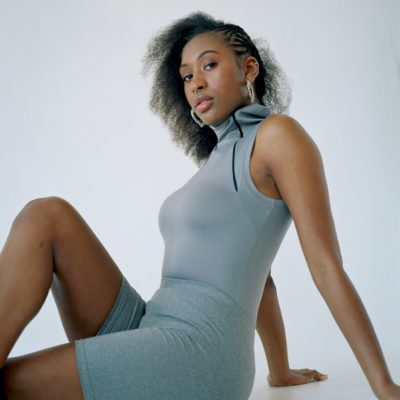 Zamani (CA)
Biography
"Her bracing vocals, her smooth presence and her intricate production work belie her young age." Andrew Patterson, OBEY Convention Festival, 2019.
This certified quadruple threat Halifax-based artist – writes, produces, and engineers the songs that she sings. Hailing from a musical family, Zamani's unique style reflects a variety of eclectic musical exposures. Folding inspiration from divas past and present such as – Ella Fitzgerald, Natalie Cole, Lala Hathaway, Erykah Badu, and Beyonce – Zamani has found a voice all her own. Her expressive vocal phasing, melodic improvisation and rhythmic subtleties, show Zamani's versatility and instrumental approach to the voice – making live performances an artistic soundscape as she skillfully delivers a unique brand of R&B, Soul, Urban Jazz and Pop compositions exploring themes of self-love, optimism, relationships, identity, and Black girl magic!
Zamani made her first foray into solo performing in 2014 at a church benefit concert. Following that, in 2015 she won the praise of Sharon Jones (Sharon Jones and the Dapp Kings) when the legendary soul singer saw Zamani perform a challenging ballad with her – award winning jazz guitar playing father – at the Halifax TD International Jazz Festival. That performance caught the attention of the local African Nova Scotian Music Association(ANSMA) and earned Zamani a prime spot on the 2016 ANSMA Awards Eastlink Telecast, which opened the floodgates to the East Coast music industry.
Now widely considered a break-out artist, Zamani has performed at world class music events in Europe, the US, Caribbean and Asia. In 2019 Zamani made her international debut at New Skool Rules Festival in Rotterdam. Later that year she opened for R&B veterans Maya and Genuwine and Pop legends UB40, at the St. Lucia Roots and Soul Festival and ended the year performing in the US at the annual Boston Tree Lighting Concert. Entertainment Reviewer Morgan Mullins described Zamani as "A teen idol in the making passing amongst her peers with a magnetism that's propelled her to stages from Rotterdam to Taiwan – and along the way has made fans of the likes of underground hip hop legend Tracey Lee, who asked her to perform on his 2020 album Glory" – Coast Magazine.
Zamani has earned invitations to co-write and collaborate with world class musicians of diverse genres including Grammy award winning Pop/Country songwriter Gordie Sampson (Jesus Take the Wheel);renown Canadian award winning classical pianist Daniel Wnukowski;and US Hip Hop pioneer Tracey Lee (Keep Your Hands High with Notorius BIG). She has been billed alongside London's Estelle, Jamaica's Tarrus Riley and has studied voice with Grammy nominated New York jazz singer Jazzmeia Horn.
Along the road of her already impressive journey Zamani has received the 2018 ANSMA Portia White Youth Music Award and the Jeri Brown Jongleur Youth Arts Award. In 2019 she won ANSMA's Emerging Artist of the Year Award after delivering a stellar performance of the jazz classic Lush Life. at the ANSMA awards show. 2019 also saw Zamani claim the prestigious TD Jazz Festival Stingray Rising Star Award for her galvanizing live jazz concert. Her pop single – What's So Great About Him won the 2019 Atlantic Film Festival Award (FIN) for Best Atlantic Original Score for the film – Cockblock and in February 2020 Zamani won the ANSMA Rising Star Award. Her self-produced video "OUTSIDE" filmed in Ghana, released in 2020 was described by Coast Magazine as an "Erykah Badu-meets-Solange pop-laced track" – Coast Magazine. It won Best Video/Audience Choice Award at the 10th Annual Emerging Lens Film Festival. Zamani's most impressive 2020 breakthrough was being named one of five national recipients of the SOCAN Foundation Young Canadian Songwriters Award (which came with a $5000 artist prize) for her single – Sway the World.
Despite a raging global pandemic, which changed the landscape for all musicians, the headline across the Arts section of the December issue of Coast Magazine boldly declared that "R&B singer-songwriter/producer (Zamani) made 2020 her year" – Coast Magazine. Her numerous virtual and live performance invitations from around the globe including: LucFest Taiwan;East Coast Music Awards GEM TV Broadcast;Being commissioned to write music for a special edition of CBC East Coast Music Hour;Being selected to perform for Music Nova Scotia's upcoming live concert series "Sessions";Halifax's Urban Folk Festival;TD Jazz Evergreen Festival;Salt Yard Fest;Being selected from national finalists for the RBCxMusic First Up – just to name a few, all confirm Zamani is on track to putting Nova Scotian musical excellence on the international stage. As Zamani continues to catch the attention of music industry influencers even whilst being a full time student of Planning and Architecture – Coast Magazine says of her….."Soon, Zamani's international acclaim will mean undeniable fame, both home and world-wide"
All sessions
Zamani (CA)
30 May, 2021
10:15pm - 10:22pm
Zamani (CA)
28 May, 2021
7:02pm - 7:08pm
Lounge // CS