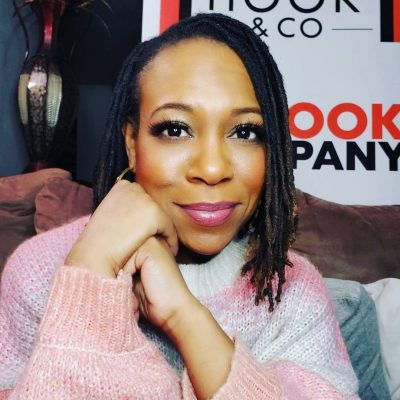 Michelle Allman-Esdaille (CA) // The HOOK & Company
Biography
Michelle Allman-Esdaille is the proud founder and co-owner of The Hook & Company, a Toronto based, global service referral resource, strategy and educational cornerstone created to fortify musicians and music artists' careers. Her mission continues to connect service providers, small businesses, freelancers and resources directly to music artists and entertainers from anywhere in the world and has been doing so over the last 5 years. With over 20 years in the corporate sales and finance world paired with the exclusive Canada's Music Incubator's Artist Manager program, she brings a wealth of industry and management knowledge, experience and organizational skills. Recently, Michelle has stepped into the Sync Licensing arena developing the Hook Sync Group and has co-created "The Machine", a professional songwriting camp designed to create songs, top-line and compositions with songwriters and producers for top-tier opportunities for major network shows, movies and A and B list label artists.
Now using her voice to create change and community advocacy, Michelle is the architect of the newly created Adopt An Artist initiative. By coupling predominantly white owned entertainment companies with BIPOC artists and musicpreneurs to mentor, educate and work with them directly, her hope is to encourage breaking down the racial systemic barriers within the music industry by sharing and transferring knowledge and networks. To add to the list, Michelle is a level II Reiki practitioner and author of a collaborative anthology book entitled "You Have So Much Potential – Inspiring Generation Healing & Transformation" alongside 29 other doctors and practitioners. Michelle directly uses her positive energy and inspiring outlook on life to bring into all her conversations and consultations. Her goal is to "be the light" in this dark industry where mental health is a primary focus while fueling musical gifts. It is her belief that affecting artists' in the area of mindset will always be her primary directive because mindset supports skill set and skill set is what sets you apart.
All sessions
Mindset Matters
30 May, 2021
8:30pm - 9:30pm
VSB Fonds Hall
How to stay mentally healthy in these insane times?
30 May, 2021
6:45pm - 8:00pm
Fonds Cultuur Participatie Hall
Why Women Are Successful in the Music Industry
29 May, 2021
4:15pm - 5:15pm
VSB Fonds Zaal // Precious