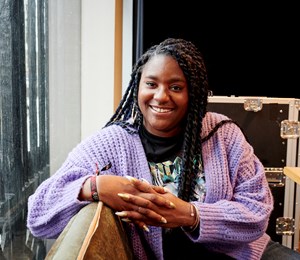 Joan Biekman (NL) // UCWB
Biography
Joan Biekman, born in the Schilderswijk and raised in the Laakkwartier in The Hague. I am
since 2017 cultural participation advisor Urban at CultuurSchakel in The Hague. I'm already making
been part of the General Urban Arts Platform in The Hague for over three years, a platform that is
makes a strong case for the visibility and stage space of hip-hop, R&B and urban creatives van
The Hague. Together with pop stage PAARD I have been organizing The Hague hip hop and for over 4 years
urban network meeting Meet The Urban Pros, which won the Popradar pop prize in 2020
for 'Best Hague Initiative'.
I am also the founder of the platform and streetwear brand Urban Chicks With
Brains and organizer of the networking, meeting
and inspiration events Inspire To
Move (Women) Up.
From a great love for hip-hop and great commitment to
youth participation I have worked myself up as a professional within the arts and
cultural sector. My start working within the professional sector of hip-hop started at
the radio station Juize.FM (part of Radio 538), Partypeeps2000.com, and later as a radio
DJ/maker at Hot-O-Twenty and Stanvaste Radio. Since 2016, The Hague has been offering more and more
opportunities for young entrepreneurs and makers within hip-hop music and urban culture. Already
For more than 10 years
I am committed to, among other things, strengthening and integrating
hip-hop music and urban culture in the arts and culture sector in The Hague.
And I am also committed to the position of black women through positive imagery
to improve. In 2019 I focused on The Hague and the surrounding area, because I think that's in it
this city also has inspiring and local influencers. At the end of November 2019 I am
started organizing Inspire To Move Up: Young Excellence, a mixer for
excellent young professionals with a bi-cultural background from The Hague and surroundings.
Since 2019 I have been organizing Inspire To Move on and around March 8 International Women's Day
Women: Black Girl Magic (2019), Inspire To Move Women: Health & Wealth (2020), Inspire
To Move Up: Women in Music (2020), Inspire To Move Women: Hustl€ & Impact (2021) with
the focus on promoting the economic, social and societal position of the
Hague African diaspora.
By organizing my own events and giving people a stage that is on me
I can show the beautiful sides of The Hague that are hidden treasures for many!
Plus in 2020 I launched my consultancy agency Urban Creatives With Brains to develop my
knowledge in the field of diversity, hip-hop and urban culture and youth participation as well
expand outside The Hague.
All sessions
Hoe zorgt de Urban Sector samen met beleidsmedewerkers en talentontwikkelaars voor de perfecte talentontwikkelingstrap
12 May, 2023
11:15am - 12:15pm
VSB Fonds Hall (Slash Gallery)