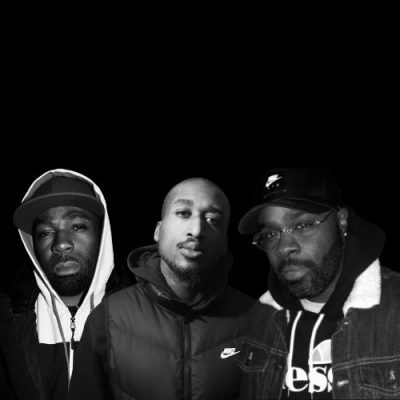 Caliber X (NL)
Biography
Hailing from the Netherlands, it's Caliber X's mission to break down the international current hiphop barriers and prove to the next generation of wordsmiths that Real Bars still Matter. Don Crim, Mr. Miller & Fredo Bankroll have joined forces and with their combined passion for the golden era, outstanding wordplay and mesmerizing cadence they are determined to innovate hiphop at the highest level.
Rapper and songwriter "FB Bankroll" was born as Vuntley Eugenia in the city of Rotterdam, with parents of Antillean descent. Growing up in the city of Dordrecht, FB Bankroll was exposed to several different genres of music, with the interest for hip hop music always seemingly having the upperhand. With the sound system in the room often playing Wu Tang, The Notorious B.I.G. and Tupac Shakur, it can be said that a seed was carefully being planted.
It wasn't until the age of 19 that FB Bankroll decided to write and record vocals to the 50 Cent "Wanksta" instrumental. This was very well received within his surroundings, but many were taken by surprise since they hadn't an idea of his rapping ability. Having cousins who were also pursuing their passion of music, allowed for organic collaborations to be formed over the length of many years in which his skill was being honed. Throughout this time, FB Bankroll managed to discover his own style and drive, enabling him to pursue his own path. Now a seasoned rapper FB Bankroll brings bars on dopamine… Be on the lookout!
Born in the early 80's, Gregory Powel "Don Crim", grew up in a difficult household with only one escapism: MTV. It didn't matter what genre it was, if he felt it, he'd learn the song. So the next time it came on, he would stand in front of the tv and start to perform for his mother or siblings.
He would watch great artists like Micheal Jackson, Bobby Brown, MC Hammer, Heavy D and others closely, to copy their dance routines and sing along. Entertainment was his passion, it made him feel free, because as he describes it: music is an extension of your feelings and emotions. Practicing in front of a mirror or performing at parties, for a little pocket change at the age of 7 or 8 years old. The look on people's faces when you are showing off your skills made him feel good and the hunger for more grew with time.
When the early 90's and mid 90's HipHop came, he knew what he wanted, he wanted to RAP. So at the age of 13, he began his own lyrical journey by freestyling and battling for, and with his homies. He improved his skills and style everyday, first in English, then in Dutch.
His aim has always been to get noticed overseas, hence the transformation back to rapping in English.. You know what they say, if you shoot for the moon and miss, you would still land amongst the stars!
Jared "Mr.Miller" Amelo, of Surinamese descent, grew up with his siblings in the city of Rotterdam (NL). Growing up in a musical family, he soon knew he wanted to follow in the footsteps of his uncles who always dabbled in breakdancing and rapping. He was also inspired at an early age by his (late) grandfather Frederic Amelo and what he achieved with his music at the time. Despite Mr. Miller being so young, it was clear that he enjoyed mimicking every move he saw on the dance floor.
In the 1990s, Mr. Miller was a big fan of the "Yo! MTV Raps", which has since had a major impact on his life in general, but especially his goals. At the age of 12 he therefore firmly stated: "This is what I want to do from now on".
His mother was not very happy with that at the time, because of the crude lyrics and half-naked dancers – the image she had of hip-hop at the time. Over the years she has seen and acknowledged that Mr. Miller has a lot of talent and potential. She now also appreciates the statement: "Real Bars Matter!"
All sessions
Caliber X (NL)
14 May, 2023
7:25pm - 7:31pm
De Doelen Studio
Caliber X (NL)
12 May, 2023
12:10am - 12:16am