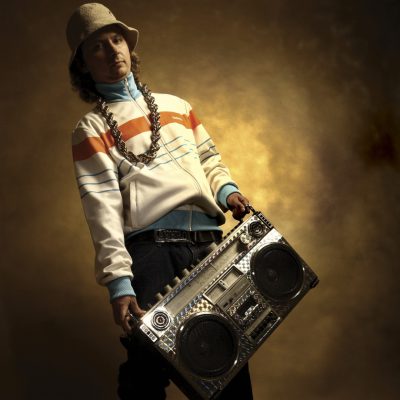 Affro (CZ) Hiphop Kemp
Biography
Despite living in a communistic country, I got to hip hop at a pretty early age. I wasn't even 10 years old and I've been watching videos by Beastie Boys or Tone Loc on a Polish music TV show.
In summer of '98 we got together with a few of my friends and had a goal to start the first real dedicated hip hop website where you could find ALL the important info at. We've started working or rather talking abt our plan and on 14th February 1999 our first issue was online at www.hip-hop.cz/bbarak.html. I don't wanna sound like an old man talking to his grandkids, but you need to understand it was a totally different era. We have been doing an online magazine and out of the 5 people doing it only one of us had the internet connection at home. I was the main writer and I didn't even had a computer even though I was studying electronics and computers at the secondary school. I've been writing my stuff by hand, later on on a typewriter and then we were scanning it and using a programme to transfer it back to text… Crazy times. We were not doing a usual hip hop website as we all know it now with daily updates. We were doing a magazine with long articles abt the history of hip hop, interviews with either Czech hip hop acts or foreign acts that were coming here for a show, we were having reports from the shows there, huge review section, graffiti section plus a database of clubs or pubs where you could hear some hip hop or shops where you could buy some records or clothes.
In 2000 we have finally got our own domain www.bbarak.cz and started growing a lot and naturally transformed into a classic hip hop website, the biggest in Czech Republic. We have started with maybe 20 visitors a day and now our record is close to 10.000 unique IP adress visitors a day and the average is abt 4.000.
Our main goal has been still the printed magazine though. I've met an old friend of mine named Babs whom I used ot go to the kindergarden and the primary school with and he seemed to be the right man to help me fulfill my dream. He was a perfect businessman, running a club, promoting gigs and generally guy who knew how to deal with money or rather how to get money from people. You can't start a hip hop magazine or any magazine without having advertisers and he took care of that. I still had my regular job at an antique book store and in June 2001 we have released the first issue of our magazine BBARAK. It only had 32 pages, layout looks funny and totally amateur if you look at it… But Im proud of it nonetheless. It was dream we made true, none of us has been studying journalism neither graphic design and we still made it happen. In 2001 we were releasing an issue every two months but by 2002 we moved on to releasing 11 issues a year, making it a monthly thing apart from summer when kids are on holidays.
We were living our dreams and we've seen the history in the making. I was interviewing my favorite band at that time – Dilated Peoples for our second issue, we have put the biggest stars of the growing Czech hip hop scene on our cover, we have seen the whole scene grow and we have been documenting the whole process. If you flick through the pages you can see how it all progressed. How it is now far more professional, looking like a mag that could compete with any other out there and simmilar with the bands but how it all was losing some of its own beauty along the way at the same time. We went from 32 pages once in two months to having abt 90 every month. From having a day job, doing my articles at night to living off of my magazine. What more can you ask for then living off your biggest hobby?
Even that was not enough for me though. There were still things I felt "if I don't do it, no one is doing it". So we have started our own label and released the very first hip hop vinyl in Czech with a band called Indy & Wich. Our philosophy wasn't to make money, our philosophy was to help the bands to get their music out there. As naïve as it might sound in the era of capitalism and materialism but that's exacty how it was. We have helped the acts build their careers and we were happy and proud to be the stepping stone for their bright future and never felt bitter abt them leaving the label for a better deal with majors. We've had Indy & Wich there, one of the best selling acts in Czech Republic, we have had Kontrafakt from Slovakia with their first 12" there who are the best selling act in the whole Eastern Europe there and we have released the first ever dubstep vinyl there by a producer named Side9000… Now vinyl is basically dead and gone but I always have the 19 vinyls we have released on my wall to remind of that era.
Another thing where I felt I could add something to the scene was promoting gigs. In 2002, after a few club gigs with both local talent and some underground acts from US and UK my aforementioned good friend Babs has come with an idea for a summer open air hip hop festival. No one has believed it was possible. No one but him. We were a crew though so we were still helping him with everything no matter how pesimistic we have been abt the whole thing. He made it a reality and in August of 2002 during the worst floods in Czech Republic in the last 300 years the first year of Hip Hop Kemp made history. Against all odds. 3.500 people screaming for 3 days to the sounds of Phi Life Cypher, Task Force or PSH from Czech. It was held at a huge swimming pool area called Cihelna in a town called Pardubice and its one of the best memories one can have really. And it didn't stop there. It went from 3.500 to7.000 to 11.000 to 15.000 to 18.000 to live its peak in 2007 when we have had 20.000 people going nuts for MOP, Redman, Dilated Peoples and countless others. We went from a small local thing to world wide phenomenon. This is not "another hip hop festival", this is "one of a kind hip hop festival", a "hip hop festival like no other". It's structure is comletely unique – in anyother country you have the local groups and US groups, at Kemp you have groups from everywhere – Czech, Slovakia, Hungary, Poland, Germany, France, Holland, UK, USA, Australia, Italy, Denmark, Greece, Sweden, Austria, Japan, Canada and you also have fans from all these countries coming to witness the festival but also to represent their country and their scene. It's a place where people don't go just for the names they see on the poster, they go to witness and live the atmosphere of this huge hip hop gathering.
Besides booking acts for Kemp that has become the biggest and is said to be the best hip hop festival in Europe I still promote other gigs on my own too. I do regular club gigs – a mothly club night called Boombox at a premiere venue called Lucerna Music Bar, totally downtown Prague where Im having what I feel is missing, be it classic true school rap, be it horrorcore rap or be it the latest club sounds of grime, dubstep, electro, bassline, UK funky, baltimore club or 4 x 4… I'm 32 now, I've been into hip hop for the most of my life and I'm the living proof that hip hop is what you make it.
All sessions
Meet the festivals : Pitch your act to different festivals
9 October, 2022
4:45pm - 6:00pm
EE2 Hall
How to get bookings at Festivals PART 1
7 October, 2022
2:30pm - 3:30pm
Gemeente Rotterdam Hall (WORM)
Auditions (Open & Invited auditions)
7 October, 2022
12:00pm - 1:30pm
Fonds Cultuurparticipatie Hall (UBIK)